Fuzhou AO Magnet Electronic Co.,ltd is specialized in manufacturing permanent
motor magnets
, such as neodymium arc magnets, segment magnets, wedge magnets, block magnets, ring magnets etc., as well as ferrite arc magnets, ferrite block magnets, ferrite ring magnets, SmCo arc magnets, SmCo block magnets……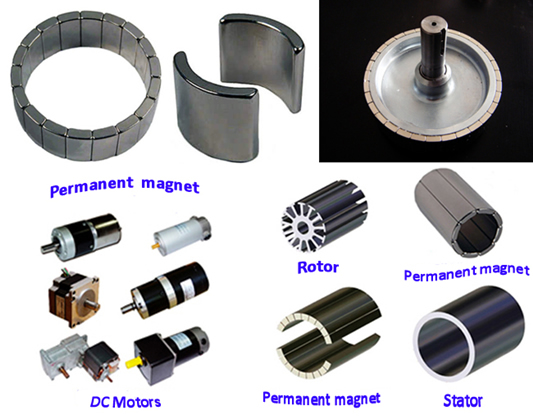 | | | |
| --- | --- | --- |
| Â  | Â  | Â  |
| | | |
| Neodymium Arc Magnets for Motor | Samarium Cobalt Motor Magnets | Ferrite Motor Magnets |
| | | |
| Neodymium Motor Magnets with NiCuNi Coating | Neodymium Brushless Motor Magnets | High Temperature Neodymium Magnets with Countersink Hole for Motor |
| | | |
| Neodymium Wedge Magnet with Zn Coating for Motor | Customized Neodymium Magnets for Motor | Neodymium Cylinder Magnets with Hole for Brushless Motor |
| Â  | Â  | Â  |
Neodymium Magnet Rotor & Stator Magnets for Motor
| | |
| --- | --- |
| Â  | Â  |
| | |
| Â  | Â  |
 
Enquiry of Motor Magnets
Material: Sintered Neodymium Magnet / Bonded Neodymium Magnet / Hast Neodymium Magnet / Ferrite Magnet / Injection Bonded Ferrite Magnet / Samarium Cobalt Magnet / AlNiCo Magnet
Sizes: e.g. Arc Magnet - Outer Diameter*Inner Diameter*Height*Angle
Ring Magnet–Outer Diameter*Inner Diameter*Thickness
Block Magnet–Length*Width*Thickness
Remark: It is better to give us the drawings with N, S poles.
Grades & Magnetic Properties Sheet:
Sintered Ndfeb Magnets: N35-N52, N30M-N50M, N30H-N48H, N30SH-N45SH, N28UH-N40UH, N28EH-N38EH
Bonded Ndfeb Magnets: BNP6-BNP12, BNI3-BNI7
Sintered AlNiCo Magnets: FLN8-FLNGT42 (or alnico2-alnico9)
Cast AlNiCo Magnets: LN9-LNGT72 (or alnico2-alnico9)
SmCo Magnets: YXG18-YXG30, SmCo18-SmCo30H (SmCo5, Sm2Co17)
Ferrite Magnets: Y10T-Y35 (or C1-C11)
Magnetization: Magnetized/Un-magnetized

Enquiry of Magnet Rotor or Stator for Motors:
Specification: Please give us the drawings indicating N, S poles, material, grade/magnetic properties and sizes of magnets and other parts.
 
Sketch Maps of Magnetization Direction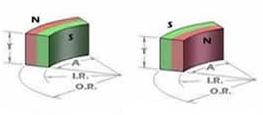 Remark: We can also customize magnets in other magnetization directions, please send us drawings with enough information.
 
 
Neodymium magnets are widely used in motors as follows:
VCM, CDDVD-ROM, synchronous motors, wind driven generator, micro motor, stepper motors, electric motors, drive motors, vibrating motor, servo motors, permanent magnet motors, DC motor, AC motors.