We are one of the professional China manufacturers work at Speaker Magnets, as one of the major speaker magnets manufacturers in China, specializes in manufacturing high level and powerful speaker magnets to our customers. We can manufacture all kinds of speaker magnets to meet your requirement. Besides producing ferrite speaker magnets, we are providing powerful Neodymium speaker magnets,speaker magnet,ferrite magnets for speaker,large speaker magnets,speaker neodymium magnet,magnet for speaker with the shape of ring, disc, block, cylinder, block and segment. The following items are the relative products of the Speaker Magnets, you can quickly find the Speaker Magnets through the list. All sound speakers have a permanent magnet located behind the center of cone, no matter what size or how powerful the speaker is, to produce the sound by interacting with the changing magnetic field, driving the cone. Speaker manufacturers have been searching a long time for better magnet in speaker driver to achieve the best of tone quality in different ranges, such as AlNiCo, Ferrite, Neodymium, SmCo etc. AO Magnet Electronic can provide speaker magnet based on your design. Please contact us right now for more details!
NdFeB Magnets - Sintered NdFeB Magnet is the strongest magnet. It make the voice sound better, make the volume smaller, mainly used in electronic devices.Our factory produce and manufacture magnets according to customer's design on shape, dimension, grades, etc. NdFeB interior speaker magnets are widely used for speaker driver installed in computer, telephone, mobile phone and some electric-acoustic toys. It features small size and light weight, quite suitable for using in the antimagnetic area where a speaker is needed.
AlNiCo Magnet - The earliest magnet which is used on speaker. Expensive, but can work under high temperature.No need coating. Sound: warm, classic tone
Ferrite Magnet - Also known as Ceramic Magnets. The cheapest one but heavy. No need coating. Sound: loud
SmCo Magnet - SmCo has high magnetic force like N35 neodymium, but with better working temperature than neodymium.No need coating. If you need good apperance, NiCuNi can be chose.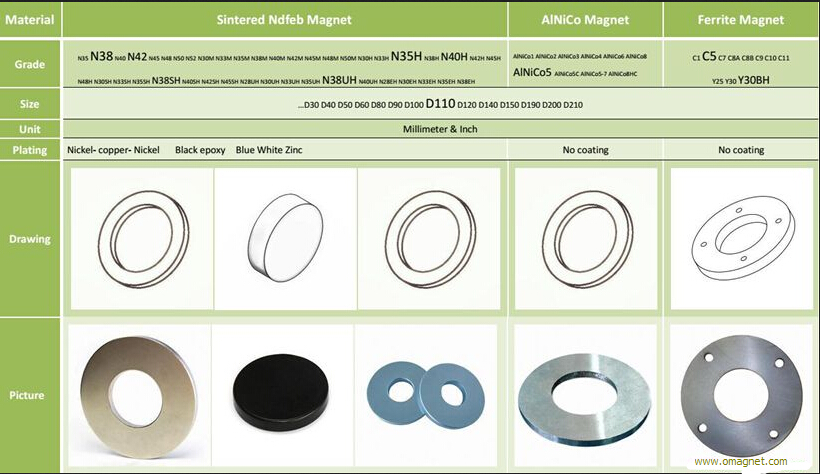 Speaker magnet magnetizer/demagnetizer
Magnetizer for small loudspeakers
SMALL CAPACITANCE TYPE MA GNETIZER This magnetizer is most suitable for magnetizing small loudspeakers, Ferrite magnets, small and medium size AlNiCo magnets, rubber magnets, small rare- earth magnets(φ < 3Omm) and small motors. The out- put voltage of the magnetizer is adjustable and it is error proof even at output short circuit conditions.
Magnetizer for large loudspeakers
LARGE CAPACITANCE TYPE MAGNETIZER/DEMAGNETIZER This type can be used both in magnetizing and demagnetizing permanent magnets simply by switching. This series of magnetizer/demagnetizer is used phase modulation technology and constant current charging. They are favorably suitable for magnetizing and demagnetizing magnets with high coercive force materials, such as large loudspeakers, rare-earth, motors and all magnet materials available today. The magnetizer is error proof even at output short circuit conditions.